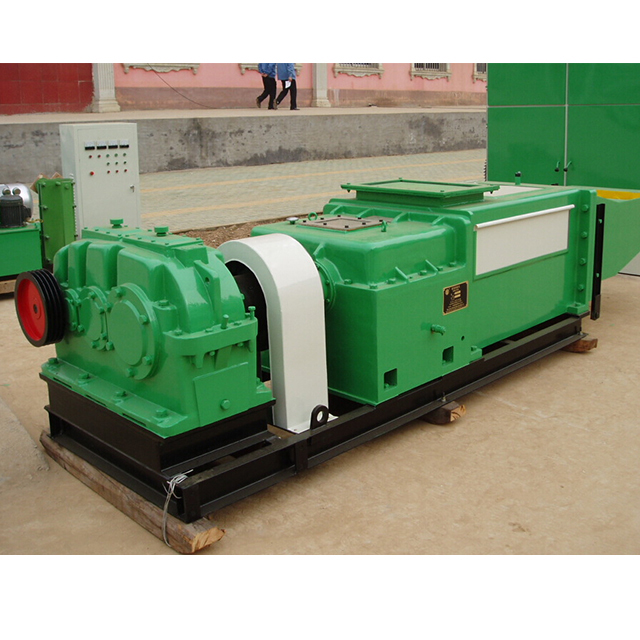 1.palm oil extraction machine Introduction:
a. Palm fruit reception:
Transport FFB to reception station, flow to the scraper conveyer,   conveyed to sterilizing station.
b. Sterilizaiton:
FFB transported by scraper conveyer fall into sterilizing tank, make FFB soft,get more oil yield.  sterilizing time 90~120mins, temperature 130~145°C
c.Threshing:
After sterilizing, fruit bunch transported to thresh machine, separate palm fruit and empty fruit bunch.
d:Digesting: 
Before press palm fruit, should be crushed separated pulp and kernel
e.Oil press:
After crushing and digesting, the maxture of palm fruit and kernel fall into special palm oil presser
f.Clarification: 
Filter the oil and use centrifuge to separate oil and impurities.
g. Kernel recovery: 
After press, the kernel and cake will be transported to kernel recovery station. Separating nut and shell, then go to kernel oil press.
2.  palm oil refinery & fractionation workshops.
(1)Degumming: This is the most important section of hydrate de-gumming, manage the adding water (there is a little P-acid in the water) amount, temperature and add water speed, usually water adding amount is about 3 times of phospholipid content, that is 3-10% oil weight, water temp needs to be higher than oil temp.
(2)Deacidification:This part adopt alkali refining method, that is use alkalis like (NaOH) to neutral the free fatty acid in oil, during this process it will produce soapstock , then separated from the oil by setting several hours. NAOH solution, not only neutral free fatty acid, also can act with other matters like protein, mucus, phospholipid, pigment. After settling, release the soapstock from the tank bottom. Adding hot water to rinse, remove off the leftover lye , soap and some unhydrated phospholipid in the oil. Finally pumping out soapstock from the tank bottom
(3)Decolorization: In normal situation , there is pigment in the crude oil , we need to using the active clay to absorb the pigment away , after 20 mins , we use the vibrating filter to filter the waste clay away . If you want to get light color oil , you need to add more active clay . That is mean , the customer can accord to his requirement to control the oil color. This process is carried out under the vacuum condition.
What is oil palm oil fractionation plant?
Oil is consist of triacylglycerol with different melting point under a temperature, separate the olein and stearin by their different melting point (melting tem33℃-39 ℃,faint yellow color) and melting percentage, this is oil fractionation.
Significance of palm oil fractionation plant
1.effect the oil use value: for making food product like shortening and margarine etc, if the olein in oil is low, the food will be more stable, and can storage longer time.
2.Some first grade vegetable oil has a strict demand on the clarity, if the stearin is high in oil, the oil will seems cloudy
After the refined palm oil is fractionated, you can get two parts:
(Palm) Olein is used for edible oil, frying oil.
(Palm) Stearin is used for shortening oil, pastry, butter, soap and chemical product.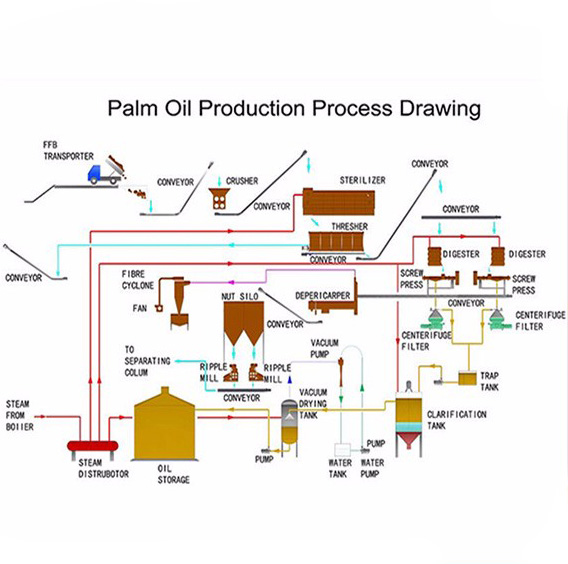 6.About us
 Our Service
1. We have running machine in China. When you visit us, we can show your the running machine.
2. Our warranty is one year. During the first year, we will help you solve any problems of the equipment. After the warranty, we will also give you the technology support.
3. After the machines arrive in your plant, we will send our engineers to install the machines and train you workers.
7.FAQ:
Q1: What is the Warranty for the machines?
A1: 1 year for free.
Q2: What is the Material?
A2: Stainless steel and carbon steel.
Q3: When can I get the price?
A3: Within 24 hours, if urgent, please directly call us.
Q4: Whether the machine price can be more discount?
A4: In general, our MOQ is 1set with very reasonable price, but if large order, we also can apply to our Manager to appropriately give you a little discount.
Q5: How to ask quotation?
A5: Please note us what tpye of raw seeds , and how many tons of raw seeds you want to treat per day, then we will send you quotation as soon as we can.
Q6: Can we ask the oil plant for different types of oil?
A6: Yes, but we recommend no more than 3 different types.
Q7: Why need extraction ?
A7: If only pressed, oil residue inside cake is very high at lease 6%. But after extraction, the oil residue will be less than 1%, which greatly increases the oil yield.
Q8: Vegetable oil plants require how large of a workspace?
A8: The land area typically depends on the capacity of the plant. We can suggest an appropriate space to prepare after given specifications, or, can design the oil plant in-house specifically to the amount of workspace available.
Q9: How long will it take to receive my products?
A9: As a general rule, it will take one Month for us to produce.
Q10: Do you offer oversea installation?
A10: We'll send professional installation engineer to help you install the equipment, as well as training your workers freely.