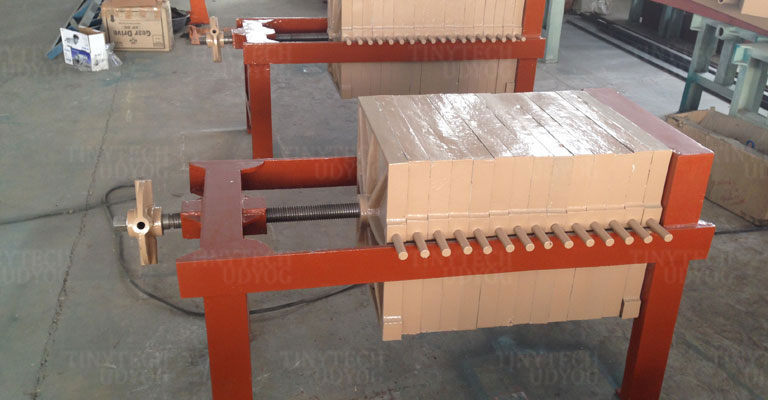 The oil mill filter press is regarded as the heart of the oil mill factory. This is the main equipment which actually gives the clean and clear edible oil. We manufacture and export a wide range of oil mill filter presses with varying filtering capacity that are designed exclusively for oil mills. Our oil mill filter is made of high grade steel material and has been designed in compliance with market standards. These filtration presses are based on the latest technology and deliver superior filtration results.The Oil Mill Filter Press are most versatile and widely used filtration equipments. They are used to filter and purify all types of crude edible oils.
The filter press frame is the main unit of filter press equipment. It consists of a thrust plate, closing plate and side bars. The side overhead bars are used for the support purpose. A series of rectangular cast iron filter plates are stacked besides each other. Each plate is dressed with filter cloth on both sides and form a chamber that depends on the number of plates.
The liquid or the raw cooking oil that has to be filtered is pumped into the oil mill filter press with the help of a special pressure pump. The crude oil then passes through the central hole and fills up the chambers. Filter cloths are present inside the chambers through which the raw oil passes. The solid particles in the extracted oil will be caught in the filter clothes that cover the filter plates. The solid matter will form as filter cakes. The filtered oil is then discharged from the water bibs or directly collected in a tank.
| Size of Oil Mill Filter Press | Weight of Filter Press( In Kg) | Filtration Area(Sq Mt.) | HP of Feed Pump |
| --- | --- | --- | --- |
| 12″ x 12″ x 12 Plates | 380 | 1.5 | 1 |
| 16″ x 16″ x 16 Plates | 650 | 3 | 1 |
| 18″ x 18″ x 18 Plates | 975 | 5 | 2 |
| 20″ x 20″ x 20 Plates | 1050 | 7 | 2 |
| 24″ x 24″ x 24 Plates | 2350 | 10 | 3 |
| 30″ x 30″ x 30 Plates | 4400 | 18 | 5 |
| 36″ x 36″ x 36 Plates | 8000 | 30 | 7.5 |
Note: – It is important to note that he filtering capacity of the oil mill filter press may vary depending on the viscosity of the oil and the amount of sediments contained in it. It also depends on the type of fluid and oil being handled.
Salient features of our Oil Mill Filter Press Equipment
Filters are fabricated with latest techniques and unique designs.
Designed to give maximum filtration efficiency.
Superior in terms of quality, longevity and functional capability.
Leak proof joints to withstand operating pressure.
Adjustable plates are used so that filter cloth can be cleaned easily.
Easy adjustable and controlled mechanism.
Available in different sizes with varied capacities.
Comes with attractive colors and superior packing.