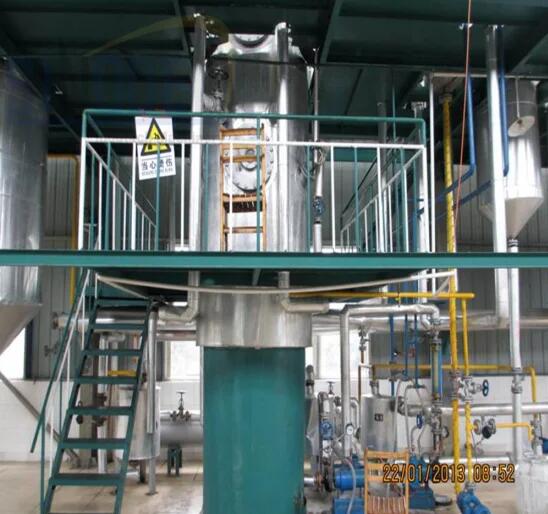 Brief introductin of crude oil refinery equipment 
1. Crude oil refinery equipment includes a series processing procedures as degumming, neutralization, bleaching, deodorization and winterisation.
2. In general there are two methods of vegetable/edible oil processing, one is physical refining and the other is chemical refining.
3. However, no matter what kinds of reining methods, they are all done with the help of various oil processing equipment and machinery, and are used to refine almost all kinds of oil extracted from oil seeds like sunflower seeds, peanuts , sesame seeds, and soya bean seeds, palm ,cottonseed , ect.
Main process of oil refinery equipment 
Degumming :The purpose of Degumming Vegetable Oils is to remove Gums. All oils have hydratable and non-hydratable gums.
a. Water Degumming: Hydratable gums are removed by treating oils with water and separating the gums. The gums can be dried to produce lecithin.
b. Acid Degumming: Non-Hydratable gums are removed by treating oils with acids and separating the gums.
Neutralizing: The purpose of Neutralizing Vegetable Oils is to remove Free-Fatty Acids (FFAs). Traditionally, FFAs are treated with caustic soda (NaOH). The reaction produces Soaps which are separated from the oil. Because trace amounts of soaps remain in the oil, the oil is either washed with water or treated with Silica.
Some processors prefer not to perform caustic neutralizing. Instead, they prefer Physical Refining in which the FFAs are evaporated from the oil under high temperature and vacuum. This process can be combined with deodorization step described under FFA stripping.
Physical Refining process is preferred because (a) it does not produce soaps; (b) it recovers fatty acids that provide better cost recovery; (c) there is smaller yield loss compared to caustic refining-especially for oils with higher FFAs; and (d) it is a chemical-free process.
Bleaching :The purpose of Bleaching is to remove color pigments contained in Vegetable Oils. The oil is treated with Bleaching Clays that adsorb the color pigments. The clay is filtered and the clean bleached oil is stored for further processing. Process flow diagram is attached.
Deodorizing :The purpose of Deodorizing Vegetable Oils is to remove odor substances. The oil is subjected to steam distillation under high temperature and vacuum to evaporate all odor substances. The resulting deodorized oil is almost bland and tasteless.