Automatic screw oil pressers is suitable for most oil-bearing crops can realize thorough squeezing, continuous squeezed speed, high production efficiency, low energy consumption, high output.
The oil press machine including screw oil press, electrical element for heating chamber, vacuum filter for cleaning oil. It can extract vegetable oil from different oil materials, such as peanut, rape seed, cotton seed, sesame, olive, sunflower, tea seed, coconut, cocoa, soybean etc. You can get better edible oil easily from our oil making machine.
The oil extraction machine is suitable for medium-small sized oil extruding workshops or professional farmers. Certainly, they can be used for repressing in submerging oil workshops too.
Advantages
1. High rate of oil yield: directional pressure, multi-step impelling, complete pressing once only.
2. High output: strengthened feeding system, fast process, high efficiency.
3. Automatic temperature control: electric program control, scientific heating, and automatic control of temperature.
4. Automatic oil filtration: under the principle of negative pressure of air, vacuum diverter is adopted for effective separation of oil and residue.
5. Safe and convenient: compact structure, small floor space; the transmission system adopts closed protection.
6. Beautiful appearance: the machine is coated with the latest material through static electricity, with strong adhesion and grease and high temperature resistance. It's beautiful and easy to clean. It also can be customized stainless steel shell.
7. Durable: High quality wear-resistant steel and anti-fatigue castings ensure stable performance and long-term continuous work.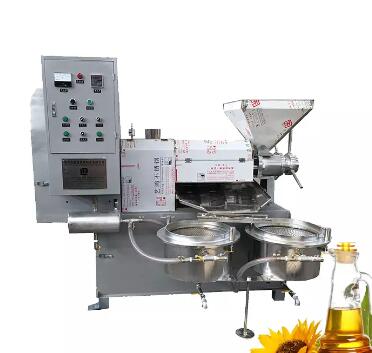 Factory direct sales, complete model, can be customized.
Capacity
(kg/h)

Voltage
(V)

Power
(kw)

Weight
(kg)

Dimension
(mm)

6YL-70

80kg/h

380v

0.75kw

4kw

60-100BRM

440kg

1400*1000*1500mm

6YL-85

100kg/h

380v

0.75kw

5.5kw

60-100BRM

550kg

1600*1100*1500mm

6YL-100

180kg/h

380v

7.5kw

1.1kw

60-100BRM

1200kg

2100*1500*1800mm

6YL-108

200kg/h

380v

11kw

1.1kw

60-100BRM

1400kg

2200*1500*1800mm

6YL-128

270kg/h

380v

15kw

1.1kw

60-100BRM

1750kg

2500*1500*1800mm

6YL-120

100kg/h

380v

15kw-4

1.1kw

60-100BRM

1000kg

2100*1500*2100

6YL-125

cold:150kg /h

hot:150kg /h

380v

18.5kw-4

1.1kw

60-100BRM

1200kg

2300*1600*2100

6YL-168

cold:250kg hot:500kg

380v

18.5kw-6

2.2kw

60-100BRM

1550kg

2600*1700*1750

300kg

380v

27kw-4

2.2kw

60-100BRM

1700kg

2600*2840*2260

3200*2560*1700mm
Raw Material:
This Screw oil extraction machine for peanut soybean cottonseed making cooking oil processing machine is suitable for rapeseed,mustard, peanut, soybean, sunflower, coconut, flaxseed, sesame seed, cotton seed, tea seed, walnut, corn germ, rice bran and soon.