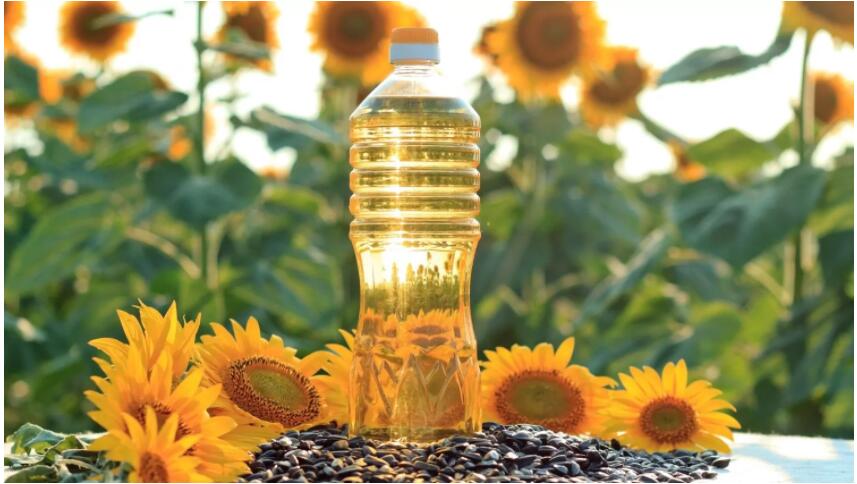 Sunflower Oil Manufacturing Business
Sunflower oil Project Report. Sunflower oil is a significant edible cooking oil worldwide. Refer to the detailed business plan checklist below of sunflower oil manufacturing and start planning accordingly.
Sunflower seeds have 32 to 40% oil. Hence, it is one of the most excellent oilseeds for edible oil processing worldwide.
Sunflower oil is light in appearance and taste and gives more Vitamin E than any other vegetable oil. It is a mixture of monounsaturated and polyunsaturated fats with low saturated fat levels. The usefulness of this healthy oil is accepted by cooks globally.
Presently, Ukraine, Russia, Argentina, and China are the foremost sunflower-producing countries internationally. If you reside in a sunflower growing region, then you can think about starting this business.
Sunflower oil manufacturing has medium to large-scale industries. It requires considerable capital investment. Thus, starting a manufacturing unit is a profitable opportunity for entrepreneurs.
Sunflower Oil Market Potential
During the last few years, domestic demand for sunflower oil has increased as processors have constructed refineries and large buyers are looking for future purchases. Food processors utilize the oil for frying foods (including potato chips), salad, cooking oil, margarine, and dairy products.
Sunflower oil is favored in many luxurious dining organizations for its neutral taste. A small amount of oil is used in industrial frying applications where high temperatures need good oxidation stability. It is also used in cosmetics, resins, and lubricants.
Sunflower oil is appreciated for its light taste, frying performance, and health benefits. Furthermore, it fulfills the needs of consumers and food manufacturers who are looking for a healthy and best-performance non-transgenic vegetable oil. Apart from cooking oil, it has sufficient demand in the cosmetics industry as well.
Sunflower Oil Manufacturing Business Project Report Checklist
Before starting the business, you must have a business project report. This helps to commence the business appropriately. Also, it helps to secure funding from the bank or other financial establishments. You can design the business project report of your own or you can prepare the project report with the help of our professionals.
Commonly, a project report contains the executive review, business goal, mission, vision, financial plan, marketing plan, and expansion plan.
Registration & Licensing
Business registration is important in this business. It is advisable not to commence the business as the proprietorship because it requires capital investment and thoughtful involvement from the founders. Select the business form carefully and register the business as per your local federal law.
After registration, you have to focus on securing numerous licenses and permits. Sunflower oil is a food product and the manufacturing entails a license. However, it relies on your state law. Check the upcoming tax and agreement liabilities of this business.
Unit Setup
The manufacturing activity requires a proper space. For a medium-scale operation, you will need to have a 5000 Square Feet space operation. After that, you have to arrange for facilities like electricity and water.
Take the help of the machinery supplier to recognize the electrical load requirement. Generally, it is better to have space in an industrial area and thus you can get the accessible facilities for setting up an industry.
Sunflower Oil Manufacturing Plant Cost
Generally, this type of business has two kinds of investment. First is the fixed capital investment. It contains plant, machinery, and other initial costs associated with the business. The second is working capital. It contains raw material expenditure, utility bills, staffing, marketing expenses.
If you are looking for funding for machinery acquisition, then you can choose to hire purchase leasing and for a working capital loan, you can gain cash credit service from banks.
Machinery
Sunflower oil manufacturing plant has an integrated oil processing, refining, and packaging. The cost of the machinery relies on the desired product yield.
Raw Material
The main raw material is sunflower seeds. You have to arrange the packaged consumables for your item.
Sunflower Oil Manufacturing Process
The sunflower oil manufacturing process is a complex oil-making process and contains various steps. The sunflower seed is the fruit of the sunflower which generally contains roughly 40 – 50% oil weight. First of all, you have to extract oil not only from the seeds but from the entire head of the sunflower to get the highest oil yield.
After the extraction part of the sunflower oil manufacturing process, you have to deliver the extracted oil for refining and filtering. Modern oil extraction procedures generate a by-product known as pressed sunflower seed cake or meal. It is high in protein and you can use it for livestock feed.
Sunflower oil comes underneath the FMCG product segment. Like any other edible oil, the sunflower oil manufacturing business creates an adequate prominence on marketing and distribution. Also, you must brand building into consideration.
Sunflower Oil Manufacturing Detailed Project Report
Sunflower Oil Manufacturing Detailed Project Report  is a complete package that contains everything that requires getting funds up to 25 Crores (Twenty Five Crores).
Here, our Sunflower Oil Manufacturing Detailed Project Report (DPR) deliver after thorough project analysis, which is created based on deep research and rich in graphics and pictorial view and contain required information or data to fulfill its purpose for Bank loan, Government Sponsored Scheme etc.
Our report data is up to date and easily impress your lender as these Sunflower Oil Manufacturing Detailed Project Report made by Chartered Accountants. Project reports having unbeatable quality, extraordinary project reports, trusted by thousands of people.
In our reports, you get every micro detail and accurate level of calculation as per the banking guidelines, acceptable to every bank, Non-Banking Financial Company, Government Departments and other financial institutions etc. These reports are very straight forward contain honest descriptions, neat, readable, and to-the-point. Reports are well spaced with titles and subtitles and are free of language errors.
Our report preparation team makes sure that the report is concise and transmits maximum information with minimum words. It guides you to show a roadmap for your business in the longer term. Every bank always has a look at your project report before they lend out any money. It's important to have a report that's clear with simple language, easy to understand and one that will offer a real insight into the business ideas that you have.
Detailed Project Report Format
In our project report format, we cover technology details, its diagrams, flow chart etc.. as and when required or deemed fit to include. Also, prepare in-depth financial calculations including CMA which is necessary for the Investor/bank.
Key Points Cover in Detailed Project Report for Bank Loan
As mentioned above, Sunflower Oil Detailed Project Report (DPR) is a complete package that contains everything that requires getting funds up to 25 Crores (Twenty Five Crores). Checkout our DPR sample to make your vision more clear. Usually, the Detailed Project Report (DPR) is needed when you apply for a bank loan or Government scheme. Project Report Bank aims to create the reports accurately from the start and make sure that businessmen get the right value and results from the reports.