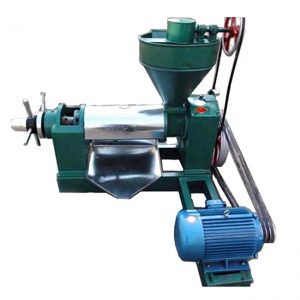 Production introduction:
Model HDC-6YL series screw oil press machine boasts strong pressing structure and automatic heating system for highest oil output. Different from traditional small oil screw press, HDC- 6YL adds an automatic heater to increase the oil output rate by hot extrusion. This automatic oil press machine is ideal for vegetable oil making, from small oil pressing workshops to large-scale oil extrusion factory.
Screw Oil Presser Working principle:
When the oil press is running, the processed material embryo enters the squeezing chamber from the hopper. The helix of the squeezed screw is pushed in and squeezed. The material embryo is carried out in the pressing chamber of the oil press. Under the condition of high pressure, there is a great friction resistance between the material embryo and the squeezing and squeezing chamber. The heat caused by the heat caused the thermal denaturation of the protein in the embryo, destroyed the colloid, increased the plasticity, and also reduced the viscosity of the oil and thus precipitated oil easily. The oil production rate of the oil press is improved.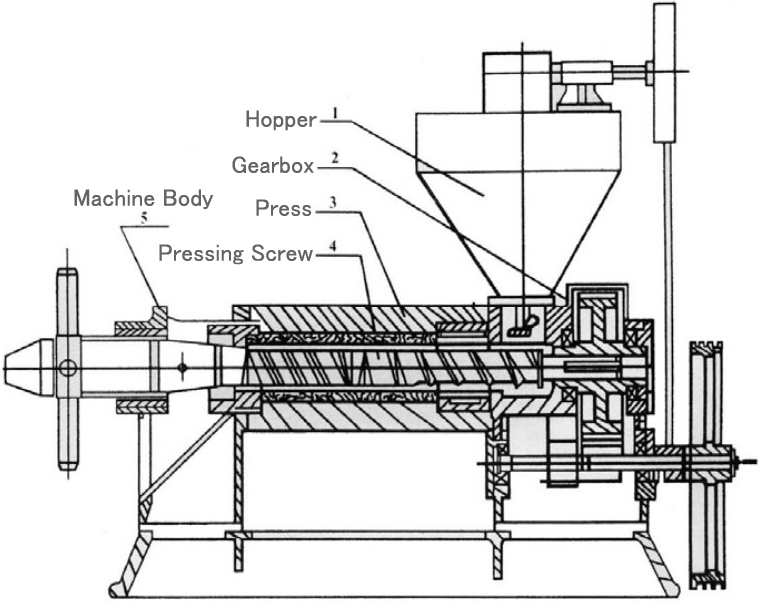 Technical parameters:
Model

Capacity

Power

Electric machinery

Packing size(mm)

Gross and

net weight (kg)

6YL-68

oil press machine

40-50Kg/h
5.5KW
380V/50HZ/Triple phase
880*440*770

160/140

6YL-80

oil press machine

80-150Kg/h
5.5KW
380V/50HZ/Triple phase
1510*440*700

350/330

6YL-95/100

oil press machine

150-200Kg/h
7.5KW
380V/50HZ/Triple phase
1910*550*765

450/420

6YL-120

oil press machine

200-300Kg/h
11KW
380V/50HZ/Triple phase
2100*630*770

530/500

6YL-130

oil press machine

300-400Kg/h
15KW
380V/50HZ/Triple phase
2280*700*780

780/750

6YL-160

oil press machine

400-600Kg/h
18.5KW
380V/50HZ/Triple phase
2050*600*850

950/900
Applications:
Although 6YL Screw oil press machine is small in size, it boasts superior oil making capacity.It can be used for various materials such as Peanuts, Rape seeds, Soybeans, cottonseeds, Tea seeds, Tung Tree seeds, Sunflower seeds, Palm kernel, Coconut meat, Corn germ, Rice bran, Almonds, Black cumin, Cacao beans, Coffee beans, Hazelnuts, Hemp seed, Jatropha, Jojoba, Linseed, Mustard seeds, Black seeds, Palm nuts, Poppy seeds, Pumpkin seeds, Shea nuts, ,etc.