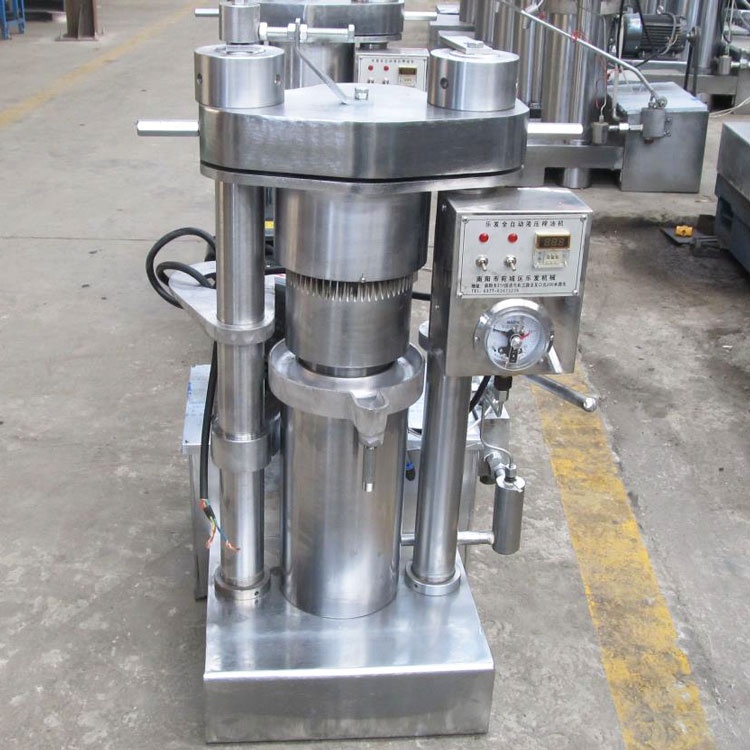 Parameters Table 

Model

Capacity(kg/batch)

Working

Pressure

Power
Voltage
Weight(kg)
Oil cake diameter
Residual oil rate
6YY-185

4

60 MPa

1.1kw

380V
590
185mm

≤5%

6YY-230A
8.5
60 MPa

1.1kw

380V
924
230mm

≤5%

6YY-230B
9.5
60 MPa

1.1kw

380V
950
230mm

≤5%

6YY-250
11
60 MPa

1.1kw

380V
1070
250mm

≤5%

6YY-270
13.5
60 MPa

2.2kw

380V
1230
270mm

≤5%

6YY-300
16
60 MPa

2.2kw

380V
1600
300mm

≤5%

6YY-335
20
60 MPa

2.2kw

380V
1750
335mm

≤5%

6YY-355
23
60 MPa

3.0kw

380V
2350
355mm

≤5%

There are different can meet your demands, the customization also can be accepted.

aw material
Cooking oil processing equipment Hydraulic Screw Cold and Hot Oil press machine is suitable for the pressing of various materials: sesame, walnut, chestnut, cashew, pine nuts, baobab seed, cocoa butter, Argan nuts, avocados, olives, grape seeds, camellia seeds, prickly pear seeds etc.
Working principle of hydraulic oil press machine:
The Motor offers power to Hydraulic Box to squeeze the kinds of materials up and down in the kettle, through the Control System control the working pressure and temperature, stop working when the pressure over the set point(60mpa) automatically, when the pressure reduces to about 50mpa the machine will work again, this cyclic processing can squeeze materials roundly and improve the oil yield.
Main Features:
Green health & Energy saving & Save labor and long life & High oil recovery
Widely used & Small footprint & Quick cost recovery
Machine structure: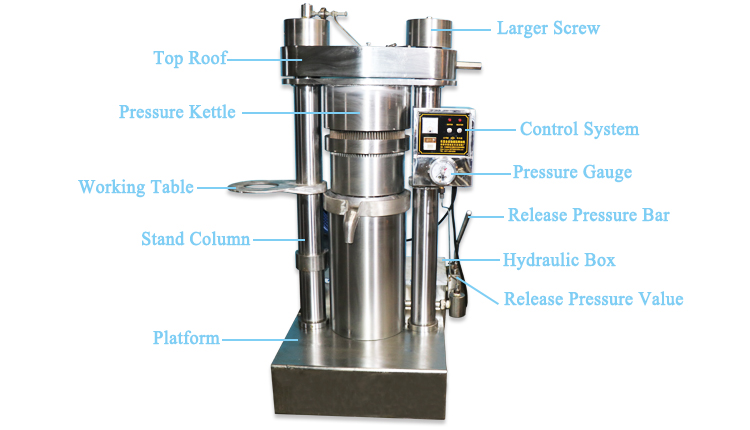 Oil cake can be reused:
1.Making pastries, snacks and etc.
2.As fertilizer to grow vegetables or fertilize flowers.
3.As feeds, the oil cake is rich in protein which is the main ingredient of the feed.
Our services
Pre-sale service
1. Offer the professional solution and design drawing. 2. Accept the customized model machine 3. Accpect to visit factory 4. Ffree testing 5. Offer professional quotation

Free consult and technical support
After-sale service
Online technology support.

Free video support.
Free spare parts during the warranty period.

Field maintenance and repair service (paid)

VIP price for the coming order.