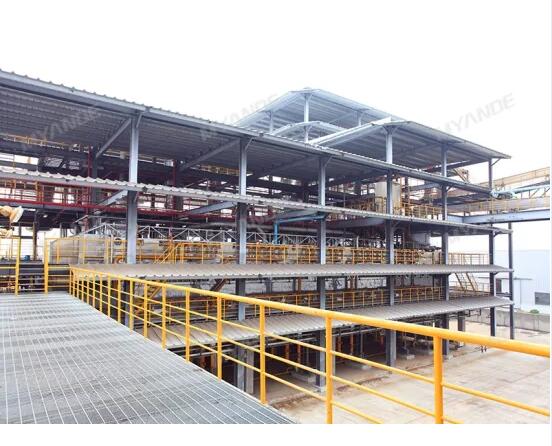 1. Process Design
A) Pretreatment Section
Myande edible oil pretreatment technology features distinctive process designs based upon specific/special customer requirements aimed at creating the most desirable processing condition. The process has the advantages of reasonable design, high quality, energy conservation, etc. World-class automatic control system and central computerized control system ensure fully automatic and reliable operation of the whole processing line.
B) Extraction Section
Myande oil extraction technology incorporates some world-advanced extraction techniques and features high efficiency, cost-effectiveness, and reliability. It represents a remarkable breakthrough in traditional extraction methods as exemplified by Myande Bucket Extractor, which ensures low running cost and high profit on the side of the user by its unique features that include low oil residue in meals, low solvent consumption, and user-friendliness. Fully automatic computer control system enables automatic adjustments and reliable operation.
Main Equipment in this section:
(bucket type extractor), DTDC, (aspirator), (condenser), (dryer), (solvent absorb column)
C) RefinerySection
Myande oil refinery technology is the result of years of research into and innovation of traditional mainstream refinery techniques covering purification, degumming, dewatering, deacidification, bleaching, dewaxing, deodorization and so on. Its most important feature is its high flexibility enabling it to cater to any special requirements of the user for the final products in relation to flavor and physical-chemical properties. With first-class manufacturing facilities, comprehensive quality standards, and fully automatic computer control system, Myande provides high-class technology services for clients with different refinery requirements.
2. Project Capacity
A) Providing complete edible oil press and extraction engineering projects with capacity ranging from 50 t/d to 10,000 t/d and oil refinery engineering projects with capacity ranging from 50 t/d to 3,000 t/d.
B) Experienced professional provide first-class process and equipment designs.
C) Complete engineering services from process and equipment design, fabrication, installation & commissioning, and after-sale technical support.
3. Advanced automatic control system ensures high reliability of the whole production line.
4. Service Police and Technical Support
Generally, we guarantee all equipment are completely new and unused, and under normal operating conditions the warranty period would be 12 months after installation or 18 months from the date of shipments whichever comes first.
Our equipment would be shipped in containers. Equipment with too large size for containerized shipment would be covered and protected from seawater damage.
We can send experienced and qualified engineers (electrical engineer and mechanical engineer) to the Buyer's site for supervision of equipment installation and commissioning. And after the plant had been successfully commissioned, our engineer will stay to train the buyer's plant personnel in process operations and equipment maintenance by buyer's request.