This oil press machine suitable for physical squeezing all kinds of vegetable oil material,such as soybean,cottonseed,peanut,rapeseed,sunflower,teaseed,copra,tung seeds and palm kernel palm pulp,casterseed,jatropha seed ect.With the characteristic of the simple structure, easy operation, energy saving, low noise, high rate of oil, adaptability and continuous operations.
One of this system main features is the energy-saving. The other notable feature is the long pressing chamber, oil seeds is squeezed for a long time, so the less residue oil of cake, the higher rate of output oil.
Features and Characteristics
1.High oil yield(the rate of the outlet oil >93%),residual oil of the cake is less,crude oil is clearer,less degums.
2.Tuses high carbon steel, which through high frequency quenching and heat-resisting, it is high hardness and strength, good abrasion resistance that suit for high temperature and high pressure continous working, all this had improved the service life of the oil press for decades.
3.For the gear-box's gears,adopt the special helical&couping fear's design and low noise,long working life.
4.Final oil is high quality, good smell, and high yield rate.
5.One Year Warranty.
6.Raw Material:soybean,cottonseed,peanut,rapeseed,sunflower,teaseed,copra,tung seeds and palm kernel palm pulp,casterseed,jatropha seed ect.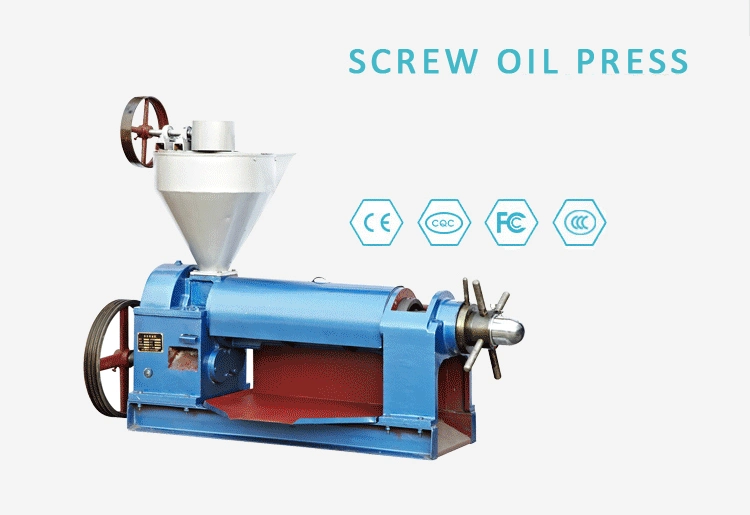 This system screw oil press is small type , which is better for the processing of various kinds of vegetable oil-bearing crops,such as the rapeseed/canola, peanut kernel, soybean,olive,walnut kernel, maize germ, rice bran, teaseed, sallow thron seed, chinaberry seed, rubber seed, china pepper seed, tomato seed, water melon seed, grape seed, flax seed, Oenothera seed, pepper seed, castor seed, orange seed, cocoa bean, coffee bean, perilla,almond kernel,peach seed kernel,etc.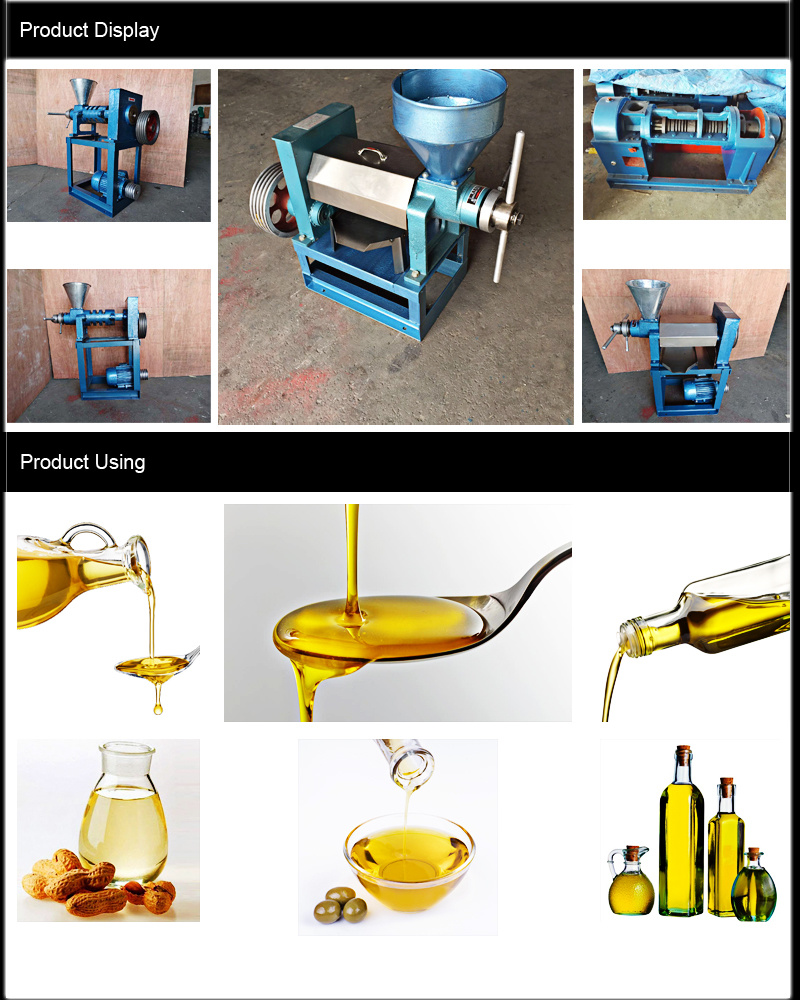 Working Princciple and Structure
1.Working principle:This oil press machine uses the poer of the space change for the material in the chamber and the driving force from the scre shaft as well as the resistance from the tooth curve in the pressing ring.The friction force from material pressing produces big pressing power,then oil-segregates from the material and discharges from the pressing bar gap and pressing ring groove.
2.Structure: This oil press machine consists of five main parts,including gearbox,press case,hopper,pressing screw and main body.
Our service
1.Large Capacity: from 1-20T per day in available.
2.High oil extraction rate -compare with old model, multi stage press,one time finish press, increase the oil extraction rate by 2-3%, increase the capacity 35%-50%.
3.Energy saving– compare with same capacity products, it can reduce 40% power, each hour can saving 6KW/H.
4.High oil purity- vacuum filtration residue, safeguard oil purity, conform to the standard of health.
5.Cover small area– only need 10-20 square meter can meet the use.