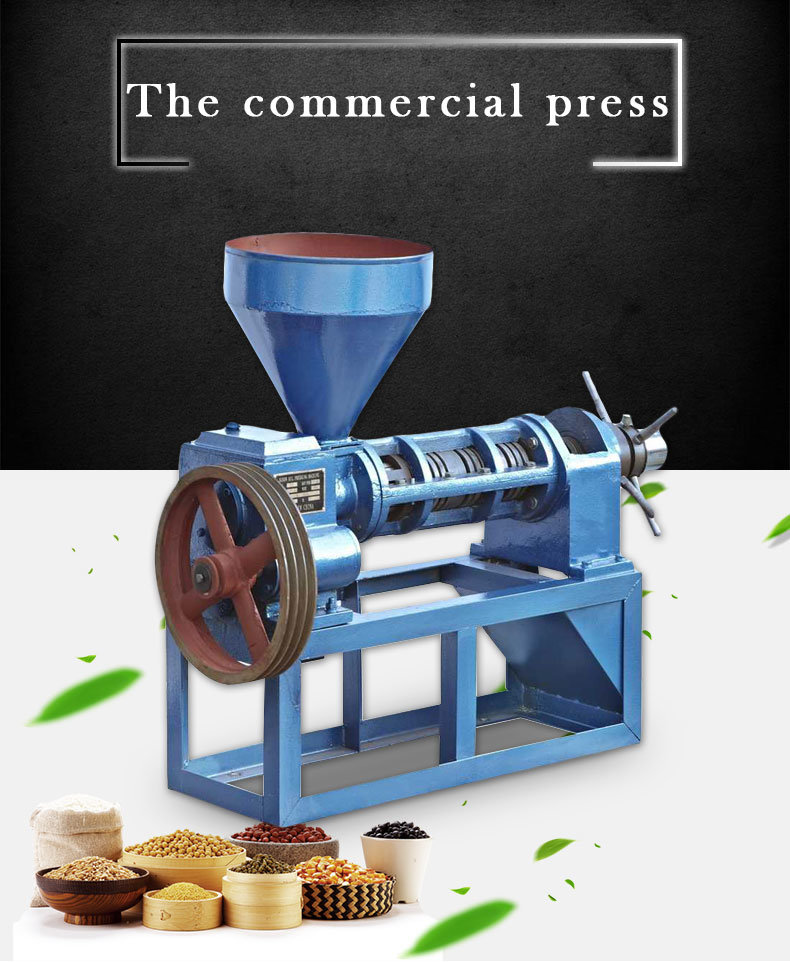 Screw oil press is a compact-structured oil extrusion machine used for extracting edible oil from more than twenty kinds of oil seeds such as peanut, soybean, flax seed, sunflower seed, rapeseed, etc. Different from integrated screw oil press machine, it is more suitable to large-scale cooking oil plants which produce various grades cooking oil. It features high edible oil output, qualified cooking oil, and continuous operation.
Advantage:
– Stable performance. Composed of high-quality carbon steel which is robust and strong enough to bear wearings and tearings, suitable to ceaselessly oil pressing.
-Widely used for pressing various oil seeds such as peanut, soybean, sesame, flax seed, cottonseed, sunflower, etc; welcomed by medium and large size cooking oil mills and plants
– With the proper-designed pressing chamber, the pre-heating process and rotation of the machine quickly increase the temperature in the chamber, which speeds up oil seeds inner structure breaking and pressed easily.
-Save labor and energy. 60% electric power and 40% labor can be saved based on the same oil output.
– Optional accessories for choice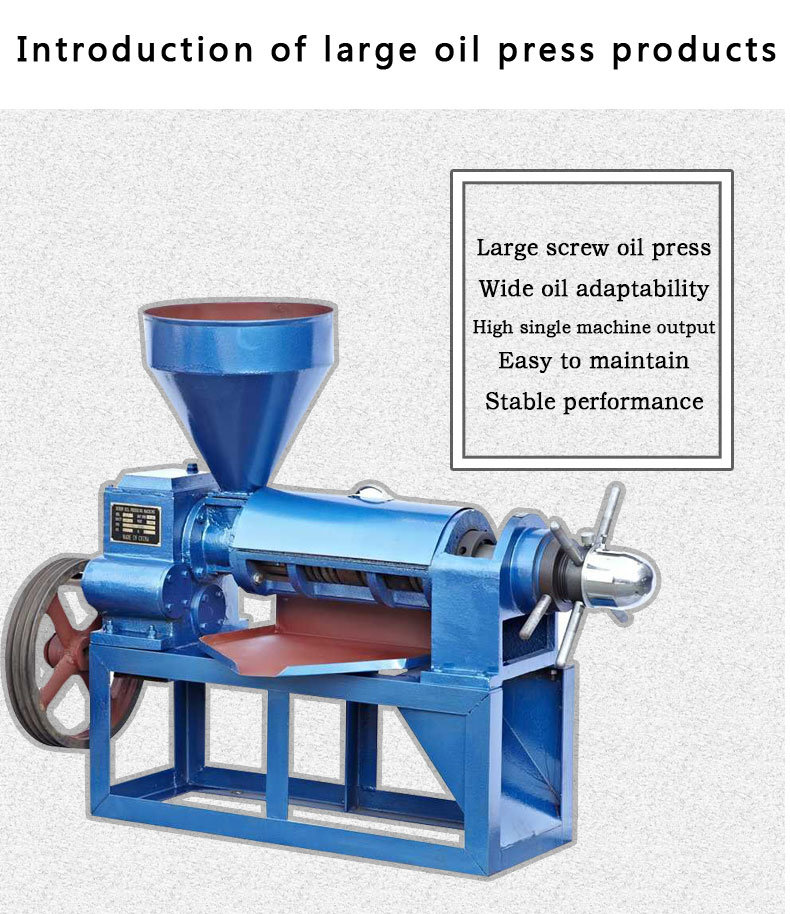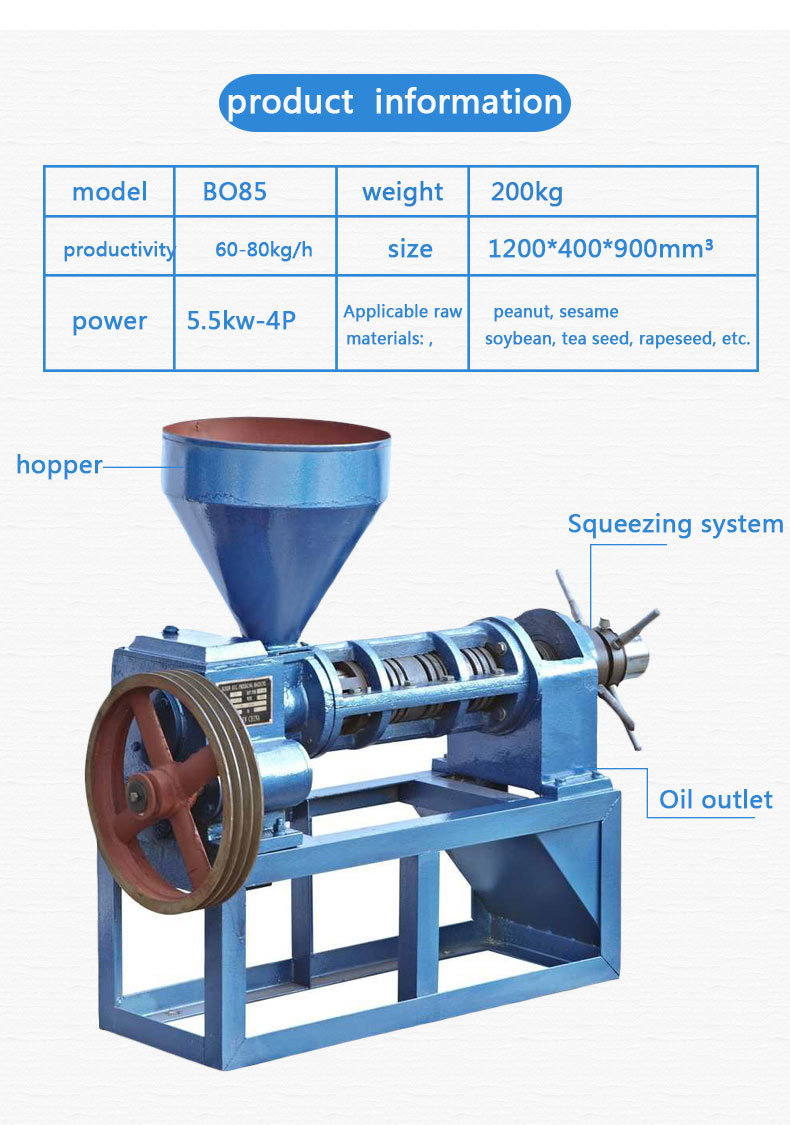 Features and Characteristics
1.High oil yield(the rate of the outlet oil >93%),residual oil of the cake is less,crude oil is clearer,less degums.
2.Tuses high carbon steel, which through high frequency quenching and heat-resisting, it is high hardness and strength, good abrasion resistance that suit for high temperature and high pressure continous working, all this had improved the service life of the oil press for decades.
3.For the gear-box's gears,adopt the special helical&couping fear's design and low noise,long working life.
4.Final oil is high quality, good smell, and high yield rate.
5.One Year Warranty.
6.Raw Material:soybean,cottonseed,peanut,rapeseed,sunflower,teaseed,copra,tung seeds and palm kernel palm pulp,casterseed,jatropha seed ect.
Specifications
| | | | | |
| --- | --- | --- | --- | --- |
| Model | Capacity | Power(kw) | Size | Weight(kg) |
| 6YL-68 | 50kg/h | 5.5 | 920*480*760 | 140 |
| 6YL-68J | 50kg/h | 5.5 | 930x575x1055 | 140 |
| 6YL-68C | 50kg/h | 5.5 | 930x575x1055 | 240 |
| 6YL-80 | 100kg/h | 5.5 | 1320*540*1020 | 330 |
| 6YL-95 | 150-200kg/h | 7.5 | 1940*700*780 | 550 |
| 6YL-100 | 200kg/h | 7.5 | 1700*600*1130 | 480 |
| 6YL-120 | 250kg/h | 11 | 1650*630*1260 | 680 |
| 6YL-160/zx130 | 10-12T/24H | 15 | 2050*820*1400 | 820 |
| 6YL-180/ZX160 | 13-18T/24H | 18.5 | 2020*680*1460 | 980 |