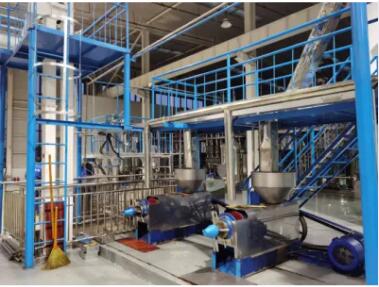 30TPD-500TPD High quality automatic rice bran pretreatment extruding oil extraction machine
1.Moisture and volatile matter of crude oil:  0.25% max
2.Impurity content of crude oil:  0.2%max
3.Acid value of crude oil (mgKOH/g):  7max
We have obtained patent for refinery ,the patent No.is ZL200820238863.2
Craft features:
1.Continuous alkali refining shortens contact time between oil and lye,reduces grease saponification,lowers refining consumption,and improves efficiency.
2.Decolorization adopts technology of combining premixing and steam mixing bleaching,which improves bleaching efficiency,saves consumption of bleaching clay,and it's simple and convenient to operate;and negative pressure state avoids oxygen in the air from contacting with hot oil,thereby ensuring oil product quality,inhibiting acid value to rise again,and lowering peroxide value.
3.Deodorization adopts new type continuous deodorization equipment which is applicable for deacidification and deodorization of plant oil with high acid value and low-resin content,the actual production proves its most obvious advantages are strong deacidification ability,excellent hot bleaching effect,high refining rate,good oil quality and so on.
4.The process has multiple heat exchange,which makes full use of the heat energy system,effectively reduces steam consumption,and also has the advantages of adjustable production process,flexible operation,high automatic degree,environment sanitation and so on.
Specifications: 3T/D—-200T/D (daily processing capacity)
Corn Crude oil quality indexGB 1536-2004
| | |
| --- | --- |
| Item | quality index |
| smell,taste | With corn oil inherent smell and taste,no abnormal odour |
| moisture and volatile matter (%)≤ | 0.20 |
| insoluble impurities(%)≤ | 0.20 |
|  acid value(mgKOH/g)≤ | 4.0 |
| peroxide value (mmol/kg)≤ | 7.5 |
| residual solvent content in oil (mg/kg)≤ | 100 |
NOTE:The red word part Index forced.
Press finished corn oil,exactionfinished product of maize oil quality index
Item
quality index

first class
secondary

three-level

level Four

Colour(dispoable cuvettes 25.4mm)≤
—
—
yellow

30red

3.5

yellow

30red

6.5

colour and lustre

(dispoable cuvettes

133.4mm)≤

yellow

30red

3.0

yellow

35red

4.0

—
—
Smell, taste
odorlessness

,

Great Taste

smell

,feeling good

With corn oil natural smell and taste,Without peculiar smell

With corn oil natural smell and

And taste,Without peculiar smell

transparency
Clear, transparent
clear

,Transparent

—
—
moisture and volatile matter (%)≤
0.05
0.05
0.10
0.20
insoluble impurities

(%)≤

0.05
0.05
0.05
0.05
acid value(mgKOH/g)≤
0.20
0.30
1.0
3.0
peroxide value (mmol/kg) ≤
5.0
5.0
6.0
6.0
heat test (280°C)
—
—
No deposition,

Lovibond
Color

:Lovibond
Color

,Red value increasesSmall
In

0.4

Trace deposition,

Lovibond:

Yellow values,

Red value increases less than

4.0,Blue color value increase in small0.5

saponified matter content (%)≤
—
—
0.03
0.03
smoking point (°C)≥
215
205
—
—
refrigeration test (0°C storage 5.5h)
clarification ,Transparent
—
—
—
residual solvent content in oil

(mg/kg)extraction oil

Not detected

Not detected

≤50
≤50
residual solvent content in oil

(mg/kg)filter pressed oil

Not detected

Not detected

Not detected