So-called small edible oil production line connects the oil manufacturing machine together and realize the continuous work. In general, it contains cleaning sieve, cooker, oil expeller, oil filter press. Sometimes, the shelling machine is needed. If the oil corps is peanut, melon seed, you should do the shelling process before you begin extraction process. And you can use this line to product almost any kind oil, including soybeans, peanuts, cotton seeds, sunflower seeds, sesame seeds, palm kernel, coconut etc.
Small Oil Production Line Setup Cost
Cooking oil is indispensable in people's daily life. In recent years, with the rapid development of the world edible oil market, investing on edible oil production line and establishing edible oil plant are good choice for many investors. Below details the cost setting up edible oil plant.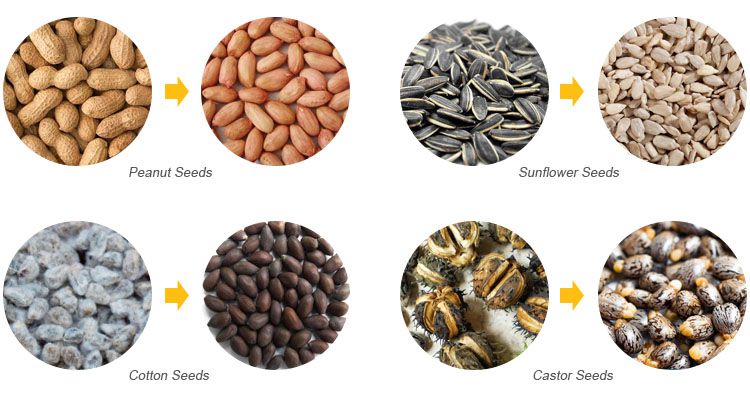 | Model | 6GH-400B | 6GH-500B | 6GH-800C | 6GH-1600C | 6GH-3000C |
| --- | --- | --- | --- | --- | --- |
| Capacity | 400kg/hr | 500kg/hr | 800kg/hr | 1600kg/hr | 3000kg/hr |
| Shelling Ratio | ≥95% | ≥95% | ≥98% | ≥98% | ≥98% |
| Crushing Ratio | ≤5% | ≤5% | ≤4% | ≤4% | ≤4% |
| Cleaning Degree | ≥95.5% | ≥95.5% | ≥97.5% | ≥97.5% | ≥97.5% |
| Power | 2.2kw/2p | 2.2kw/2p | 4kw/4p | 7.5kw/4p | 4-11kw |
| Worker Required | 1-2 person | 1-2 person | 2-3 person | 2-4 person | 3~5 |
| Weight | 127kg | 130kg | 330kg | 700kg | 850kg |
| Size(mm) | 1200×660×1240 | 1400×750×1550 | 1520×1060×1660 | 2400×1100×2300 | 2150×1560×2250 |
Peanut shelling machine consists of frame, triangle wheel, vibration sieve, hopper, screen, rotor, fan, single-phase motor. When equipment is normal operation, you should put the peanut quantitative, uniform, continuous into the hopper. Under the rotation of the rotor of wind pressure and blow, the peanut will hit repeatedly, friction, collision of the rotor, then peanut shells and broken. Peanut kernels and the broken peanut shells through a certain aperture sieve (peanut threshing with big hole mesh for the first time, after cleaning the small fruit skin changing sieve into a small hole on the second shell), then, peanut shells, particles are rotating fan blow force, light weight of peanut shell was blown out of the body, peanut kernels by screening of vibrating screen to achieve the purpose of cleaning.
Small Oil Pressing Lines Setup Advantages
Oil pressing and production can be done in oil mill plant. Usually there are three types of oil mill, small scale, medium scale and large scale. The conditions of starting a small scale oil pressing line is relatively simple and easy, especially for novice in oil processing industry.
The small oil pressing line we designed and built can process cotton seeds, palm kernels, coconut, peanut, almond, prickly pear seeds, rapeseeds, mustard seeds, flaxseeds, sunflower seeds and more other oil-bearing plants and nuts. If you are searching for a reliable supplier to be your own oil mill plants, ABC Machinery won't let you down. We have very rich experiences and professional technical personals in this sector.
High oil output can get returns quickly
It is versatile for various vegetable seeds
It also features short cycle of installation and construction
The whole oil pressing process is automated and can operate consistently
Small scale oil pressing line usually requires small investment, less factory spaces and less labors. It is ideal and safe choice to enter into oil making business
Screw Oil Expeller Press

| Model | Capacity(Ton/24H) | Power(KW) | Dimensions(MM) | Weight(KG) |
| --- | --- | --- | --- | --- |
| YZS-68 | 0.8-1 | 5.5 | 920*390*750 | 150 |
| YZS-80 | 2-3 | 5.5 | 1540*540*620 | 370 |
| YZS-95 | 5 | 11 | 1920*550*765 | 480 |
| YZS-100 | 4-5 | 7.5 | 1910*610*765 | 550 |
| YZS-120 | 6 | 15 | 1970*700*780 | 680 |
| YZS-130 | 9-12 | 18.5 | 2320 *700 *780 | 820 |
| YZS-165 | 15-20 | 22-30 | 2290*750*1020 | 1600 |